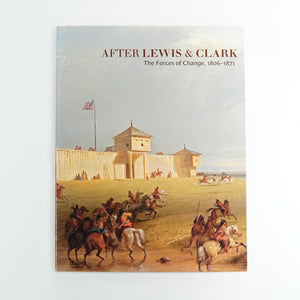 BK 2 AFTER LEWIS & CLARK THE FORCES OF CHANGE BY GARY ALLEN HOOD #21040668 OCT22
Regular price
Sale price
$24.95
---
Between May 1804 and September 1806, Meriwether Lewis and William Clark and their Corps of Discovery explored a new expanse of America known as the Louisiana Purchase. They encountered lands, rivers, and peoples previously unknown Americans east of the Mississippi. During the next sixty-five years, Lewis and Clark's journey was followed by other explorations of the West, from the Mississippi River to the Pacific Ocean and from Canada to Mexico.
Artists often accompanied explorers as they encountered the unexpected and unique subjects of the American West. Inspired by the thrill of adventure and the majesty of high mountains, great chasms, and wide-open spaces, artists became eyewitnesses and visual commentators of the changing shape of the frontier― and the tragic displacement of American Indian tribes. As these artists sought to capture on paper and canvas what they saw during their explorations and travels, they gave birth to American western art.
After Lewis and Clark highlights more than sixty paintings, drawings, and prints in the collection of one of America's finest museums of American art, the Gilcrease Museum in Tulsa, Oklahoma. This richly illustrated book presents and places in aesthetic and historical context many of the priceless portraits, striking scenes, and grand landscapes inspired during the sixty-five years after the Corps of Discovery completed its epic journey. It features the works of notable artists of the nineteenth-century American West, including George Catlin, Karl Bodmer, Alfred Jacob Miller, Charles Bird King, Paul Kane, Seth Eastman, Carl Wimar, John Mix Stanley, Albert Bierstadt, and Thomas Moran.
Paperback. 96 pages. ISBN: 978-0806199597. Dimensions: 9 x 0.3 x 12 inches.